Who are we
We are a group of volunteers supported by Stafford Borough Council. Our aim is to improve access for all, mothers with prams, wheelchair users, those with walking problems and those with health problems which limit their activities.

We raise awareness of the issues, make representations about access problems and campaign for improved provision.

We have no political affilliations.
Events
We meet in the Borough Offices usually on the second Monday of alternate months.

Next meeting Monday October 18th 2021, 10.00 am.
Next AGM Monday June 6th 2022, 10 am.

Committee members:
Chair Ray Sutherland
Secretary Beryl Metcalf
Treasurer Violet Cummings
Attendee the Mayor of Stafford.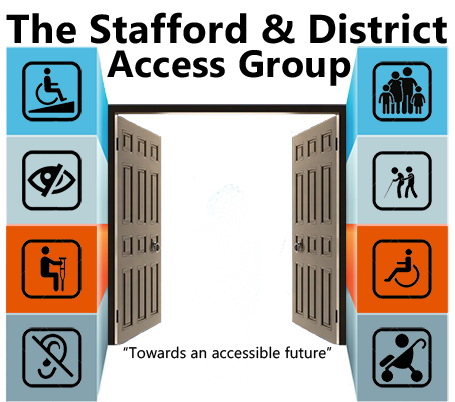 Accessibility News

The country has now reverted to normality following the COVID 19 pandemic and shops and services are operating again. Some places are continuing with some rules still in place: e.g. mask wearing is requested, restrictions on the number of customers allowed at any time to maintain social distancing. The rules may be different in each shop and will be posted at the entrance. It is in all our interests to continue to be vigilant. Public transport (buses and trains) are running a near normal service.

There is no published plan for any further lockdowns but neither has this been ruled out.