Who are we
We are a group of volunteers supported by Stafford Borough Council. Our aim is to improve access for all, mothers with prams, wheelchair users, those with walking problems and those with health problems which limit their activities.

We raise awareness of the issues, make representations about access problems and campaign for improved provision.

We have no political affilliations.
Events
We meet in the Borough Offices usually on the second Monday of alternate months. Some meetings may continue online depending on circumstance.

Next meeting Monday March 21st 2022,
10.00 am.
Next AGM Monday June 6th 2022, 10 am.

Committee members:
Chair Ray Sutherland
Secretary Beryl Metcalf
Treasurer Violet Cummings
Attendee the Mayor of Stafford.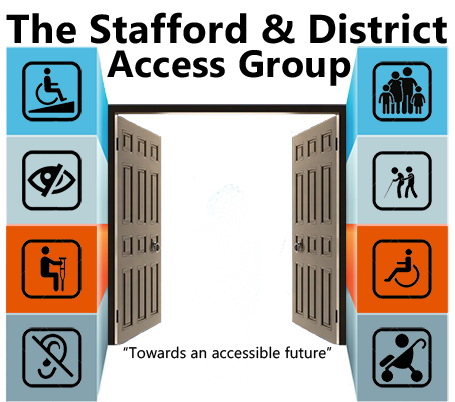 Accessibility News


Most services are now back to normal following the pandemic. Some shops and venues may continue to impose restrictions on entry such as wearing facemasks and maintaining distance from others but this is not a national requirement.

Stafford Borough is currently discussing the best use of a national regeneration grant, some of which could be used for improving accessibility in the town centre.